September 21, 2005
Old Friends
Cassie from London, an old friend I've known for over fifteen years, arrived today for an extended visit. She's going on a tour around the country that begins and ends here in Hamburg, first here until the end of this week, when I leave for Italy for a week (
same place
I went last summer). Then I have the kids at my place for a week after, while Cassie will be tooling around places like Paderborn and maybe Marburg. And then after she'll be at my place for another week, so that her visit will last into mid-October, about a month in all.
Cassie and I first met back in 1988 when I was touring with my friend Mike, who had lived in the other half of our duplex in my college days, on the trains through Southeastern Europe. Mike's visit had been planned for a long time, but I especially needed the trip then to help me get through a state of shock. Just a few weeks before he arrived, my roommate Niko, with whom I shared my first apartment in Hamburg, was killed in a traffic accident -- he was riding his bike along one of the city's busiest streets, and fell off trying to avoid a pedestrian, right into the street just as a fourty ton truck was going by. It was an appalling stroke of evil fate. And if that wasn't bad enough, I spent much of the following weeks coping with parents who were anguished over the loss of their son. His father was a bitter and resentful man who had a strained relationship with Niko, and now had to live with the fact that they would never be reconciled. He went through Niko's stuff in the apartment together with me, often implying that I was falsely claiming some of the things as my own, because of their "high financial value", as he put it. His mother, however, was one of the kindest people I ever met, and it was heart-breaking to see her suffering quietly over the death of her boy. After the funeral, I stood alone with her at the side of his grave, and she asked me if I believe in life after death. I tried to answer sincerely, not saying things that I don't believe, for I was sure that she would notice that and feel patronized, but nevertheless I tried my best to comfort a mother who so very much wanted to hope that her son was not completely gone after all.

Anyway, Mike arrived after most of the painful ceremonies of death and mourning were over, and we decided to shake it off by hopping on the trains, living in youth hostels, seeing a bit of the world and acting like a couple of ugly Americans, which we certainly were. We decided to make for Crete. The first leg of the trip took us to Salzburg, Austria, and after a few days in the youth hostel we saw a sign on the bulletin board from someone who was looking for someone to travel with her to Crete. And that someone turned out to be Cassie, a petite British girl who at the time was studying for a year in Marburg and now was backpacking in the same direction that we were.

So the three of us joined forces for the trip, first for a harrowing nighttime ride on overflowing trains through Yugoslavia (which at the time was still one enormous country). Halfway through we made a chaotic stop in Belgrade, and in an hour of wild desperation to get the hell out of there, we ran into Cindy and Mandy, two American backpackers who were as desperate to get out as we were. So the five of us pooled all the dinar we had to buy a cabin on the train to Athens, and made our escape (although Mike almost got left behind in the train station -- another adventure I'll have to write about someday). In Athens we joined up with yet another American guy (what was his name again?), making Cassie the lone Brit in the group, surrounded by five Yanks. From there we took the ferry for a stormy overnight crossing of the Aegean, which had everyone seasick, took the bus down to the southern coast of Crete and rented an apartment for the six of us in Paleochora. It's a touristy little backpacker trap, but we stayed for a week and a had a terrific time, soaking up the sun and living like beach bums.

Ever since that trip, Cassie and I have managed against all odds to stay in touch, for seventeen years now. At the very least we managed to send a couple of cards a year over the years (although she's very much better at that than I have ever been, naturally). I visited her once in Marburg, and then she went back to London, where I visited as well. A few years later she came and danced at my wedding, and got married herself some years after that. But in the meantime, she and I both have been through the soul-wrenching experience of separation and divorce. We hadn't spoken in a long time until she called up a couple of months ago, and now that she's doing a stint of unemployment, we decided it's the perfect time for a visit.

We worked it out that Cassie would fly into town and find her way to the Zoe Bar, at the end of my street, and I would meet her there when I got back from work. But just before I left for home, I got a message from Marcus that St. Pauli had a home game tonight, and that he'd be there with Nadja, Paddy & Tim. I had no idea. They were playing Preussen M?nster, and since Marcus is from M?nster I had a sneaking suspicion that he wouldn't be rooting for The Good Guys (which in fact he wasn't, the traitor). The game would be starting just exactly when I got back from Hannover, so I didn't think she'd be willing to drop everything and go to a soccer game the moment that our visit began; but nevertheless I rushed back, found her in the Zoe Bar, and told her I had a crazy, spontaneous idea, to which she answered, "Football, right? Well that's ace, let's go!" So we dropped off her stuff at my place, headed over to the stadium and got tickets, and just a few minutes after kickoff were in the second row, polishing off Astras, catching up on news during breaks in the action, and enjoying a brilliant start to her visit.




Frankly, the game was awful; although St. Pauli was in control almost all of the time, both sides played sloppily and St. Pauli couldn't complete any of its many chances throughout ninety minutes. It looked like we were headed for a 0:0 tie, as boring as could be. Cassie never tired of explaining that she was accustomed to seeing her team Charlton Athletic, who are in second place in the British Premiership, where the play is much better. But finally St. Pauli scored in the 90th minute for a 1:0 win, after which all was forgotten and everyone agreed that it was a brilliant match. (Everyone except for Marcus, that is.)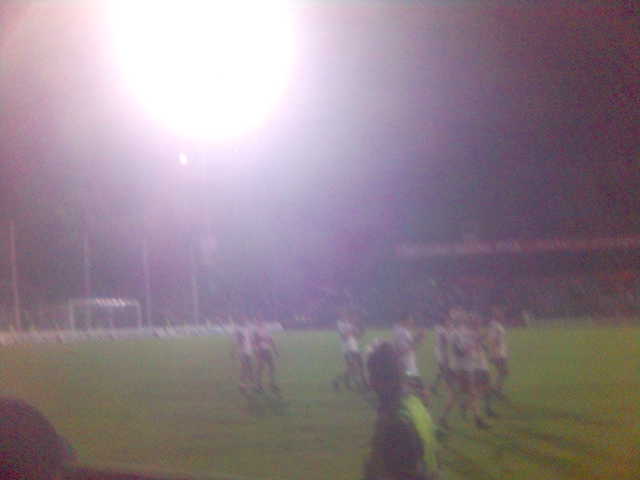 We met up with Marcus, Nadja and Paddy after the game, but soon found out that Marcus and Nadja were mainly occupied with each other, as were Paddy and his girlfriend. As Cassie put it, "Don't want to stand here watching everyone snogging all evening, do I?" I explained to her that the two couples are newly in love, and that Marcus recently told me that he found the woman he had always been looking for, so what do you expect them to do? But Cassie didn't seem to find that very persuasive. We agreed to go with Marcus & Nadja over to King Kameha in the Feldstrasse, but since the place was full when we got there, and since the two of them didn't seem to need any additional company, having stopped for numerous snogs along the way, Cassie and I decided to leave them on their own and call it a night.

So now she has settled in and is sleeping in the back at this very moment, while I post my story of the day onto the blog, now that the next chapter of our long friendship is off to a fitting start.