February 10, 2010
Gifts from Chucky P
It was back in September 2007 when I got an electrifying message from
SureShot
--
Chuck Palahniuk
, author of the novel
Fight Club
, which is best known for the
film
with Brad Pitt, Edward Norton, Helena Bonham Carter and Meat Loaf, would be appearing at
Uebel & Gefährlich
for a reading of his book
Rant
(which was just coming out at the time).
Count me among the legions of fans who think of "Fight Club" as a life-changer, high on my list of favorite films of all time. I have a standing challenge to SureShot that he hit me as hard as he can -- so far, we've both been too chicken to go through with it, but one of these days, if I manage to get him pissed off enough ... And like many other fans, I was turned on to Chuck's writing by the film. There was no way I was going to miss the reading, this would be a brush with greatness.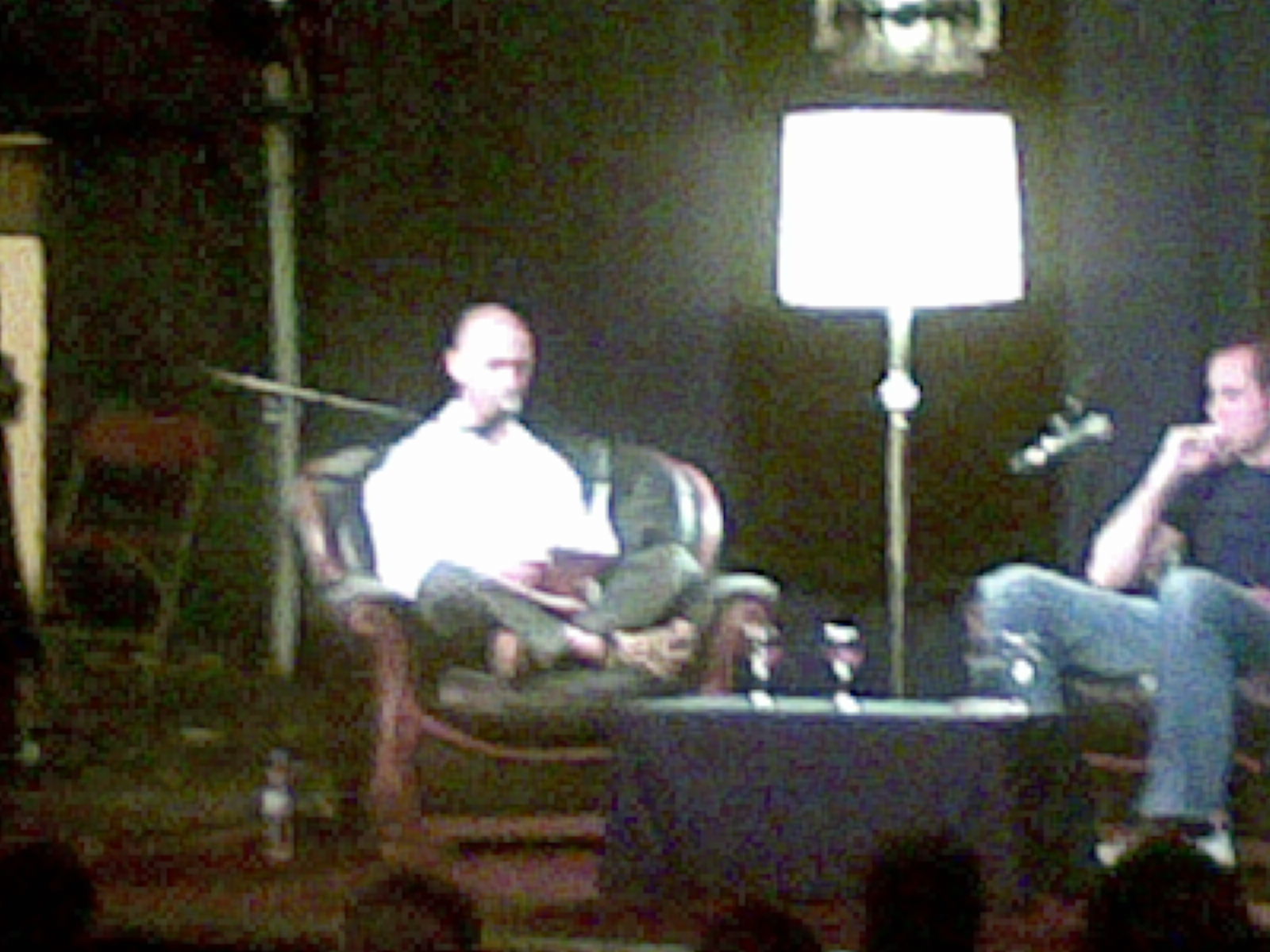 The reading featured a man and a woman reading excerpts of the German translation of "Rant", and Chuck himself read a chapter in his native Upper Northwest accent. The best part of the evening, though, was the Q&A session -- all you had to do was get him going with a good question, and he would run with it, telling fantastic, hilarious stories. He wanted to encourage questions -- audiences in Hamburg tend to be very reserved -- so he promised that anyone who spoke up would get an envelope with an address, which you could send in, and he would send you a little something sometime later. He didn't elaborate. But that was good enough for me, I thrusted up my arm like an eager
Arnold Horshack
.
"Rant" is structured as a fictional oral history, told as quotations from various characters, and some of the quotations are attributed to the "Field Notes of Green Taylor Simms", which was not explained at the reading. So I asked Chuck what that was all about, hoping I would get him started on another good story. But it seemed that the question bored him; he gave a flat, matter-of-fact answer, and that was that. I was a little chastened, but I got the envelope, which was addressed to his agency in New York. I stuck in a note, saying that if I could wish for anything, it would be for an autograph with the dedication "Dear Geoff, I want you to hit me as hard as you can, Chuck", and mailed it in the next day.
The week after Christmas, a package arrived, and what a box of surprises I found inside.
The box of stuff from Chuck was filled with strips of blue and red confetti, and contained the following items:




Orange blossom scented incense sticks


A ceramic incense burner, sculpted as a turtle


A string of Bells of Lal


About four or five Atomic Fire Balls


A small sampler box of Whitman's chocolates


A bar of handmade "Dark Chocolate" soap


A rubber severed finger


12 relight candles (you can't blow them out)


Two temporary, stick-on tattoos, in the shape of Chinese letters


24 "Color Splash" bath tablets ("Add color to your bath"), red, yellow, blue and green


A box of bandages, yellow with the text "CRIME SCENE DO NOT CROSS", in the manner of TV police shows, and a "Free Toy Inside" (a tiny plastic walkie-talkie)


A keychain laser pointer


Carrot seeds


Forget-me-not seeds


Seeds for an herb garden


A "Wash Away Your Sins" towelette ("Heavily Scented", "Handy reliable", "Anti-Bacterial formula, kills all sins on contact")


A superball


Two CDs with recordings from Chuck's reading tours


And the best of all: a hand-strung necklace, with beads made of green howelite, turquoise, moss agates, dark-green malachite and pale-green amazonite; two glass beads cast with phosphorescent bits so that they glow in the dark; a hand-carved pig in the center made of serpentine jade; and a string of beads that spell out "To Geoffrey Simmons" on one side, and "From Chucky P" on the other. The chain is now one of my most cherished possessions; I wear it every day.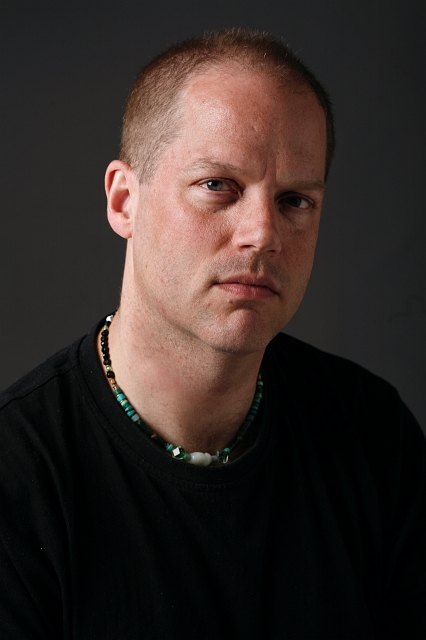 All of this from the man whose mind conceived of Tyler Durden, Marla Singer, Robert Paulson, the eight rules Fight Club, Jack's smirking revenge, Jack's raging bile duct, Jack's complete lack of surprise, Jack's inflamed sense of rejection, Project Mayhem, the Space Monkeys, and the all-singing, all-dancing crap of the world.
The box contained a letter signed by Chuck:
... here's a necklace I've made for you, using stones I gathered while on tours. ... I love the fact these stones are ancient -- and that they'll outlast all of us.

If this letter seems short it's because I get bored with too many words. Instead, I'd much rather send you as many sounds, smells and tastes as I can pack into this box. And I hope this mess arrives on a day when you need a good surprise.

Please, when you have the opportunity, never hesitate to surprise someone. And if you receive this package, consider it a small miracle. With so much unhappiness in the world, let's make the effort to create good events.

Now, have a wonderful 2008.

I'll shut up now.
Yes indeed, Chuck, the box came on a day when I needed a good surprise, and I consider it a small miracle.
So with so much unhappiness in the world, let's never hesitate to surprise someone, and let's all make the effort to create good events. Let's never be complete, stop being perfect, let's evolve, and let the chips fall where they may.