This post is entirely self-indulgent, which you can't stand if you've got any sense, so for Pete's sake, be reasonable and
go someplace else
.
I think it was about four years ago when my project manager took this shot of me in the developer room about a day before we had to deliver a milestone on schedule, which explains the scowl.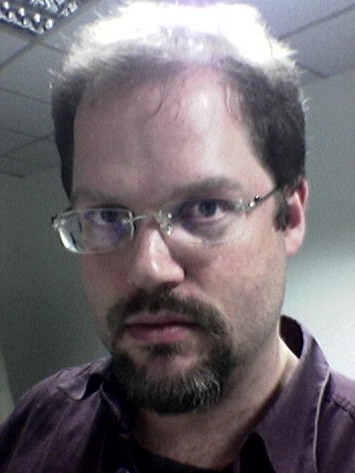 But for a long time, it was the only digital head shot that I had, so I used it for just about everything -- notably, for my
XING page
, as well as my Warhol knock-off on the
front page
of this site. The XING picture wasn't much of a hit. A number of contact invitations noted that it wasn't very inviting, and an
old friend
from
Uni Hamburg
wrote that it was "scary".
In the meantime, I've lost some weight, lost the beard, got contact lenses and cut my hair, so I needed a new picture. This weekend I took about twenty shots of myself, holding up the camera in front of my face in the apartment underneath halogen lights, and hated them all. But I picked one that I disliked least, and here it is ...