Archive for March of 2008
March 09, 2008
Secret Message
Here's the message that was
expertly decoded by SureShot
: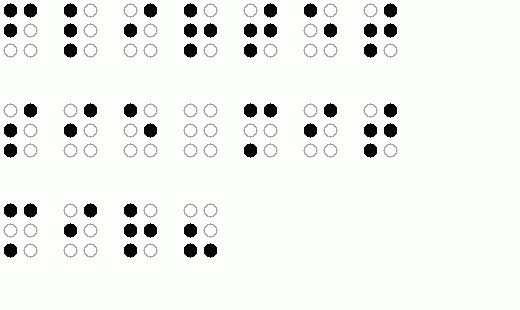 Generated by the
Braille translator
at
Math Is Fun
.
March 08, 2008
SureShot Decodes Geoff's Braille Message
FOR IMMEDIATE RELEASE
Hamburg, Germany
March 8, 2008
While SureShot was visiting his home on the evening of March 7, 2008, Geoff wrote a message in SureShot's notebook encoded in Braille. Geoff used a postcard displaying the Braille alphabet that SureShot had obtained for his new girlfriend, known to the two of them as "The Goddess of the Temple."
Geoff was attempting to challenge SureShot with a puzzle that would take several days to solve. Geoff commented: "At the beginning it did indeed seem that SureShot was wholly stymied by this peculiar arrangement of dots in his notebook. 'Just tell me what it says,' insisted SureShot in consternation. But I explained that this was something I said to myself at a moment when I felt blind. I'm having just as much trouble decoding it as he is."
SureShot quickly decoded the "M" and the "I", and before long a coherent message came out fully formed. Geoff was altogether nonplussed that SureShot, in his view more a poet at heart and not the type to master a logical puzzle so quickly, hat decoded the message in no time.
The message was "FLIRTET SIE MIT MIR?", German for "Is she flirting with me?"
Later that evening, Geoff read the book
Learning To Love You More
that SureShot had brought along, and decided to report this event as an exercise of
Assignment 60
, "Write a press release about an everyday event." The press release was completed and published on the web by the next morning.
For further information contact
Geoff
.